Hello Collectors, we are still looking for the Hard Rock Cafe CARACAS Venezuela MAGNET No. 1. The missing magnet is part of the global V+ Bottle Opener Magnet Series.
Ever since my fascination with collecting magnets from different Hard Rock Cafe locations began, one elusive piece has continued to elude me: the first magnet from Hard Rock Cafe Caracas. Despite my best efforts and countless searches, this cherished item remains missing from my collection. In this text, I will share my ongoing quest to find this elusive magnet and express my unwavering determination to add it to my ever-growing assortment.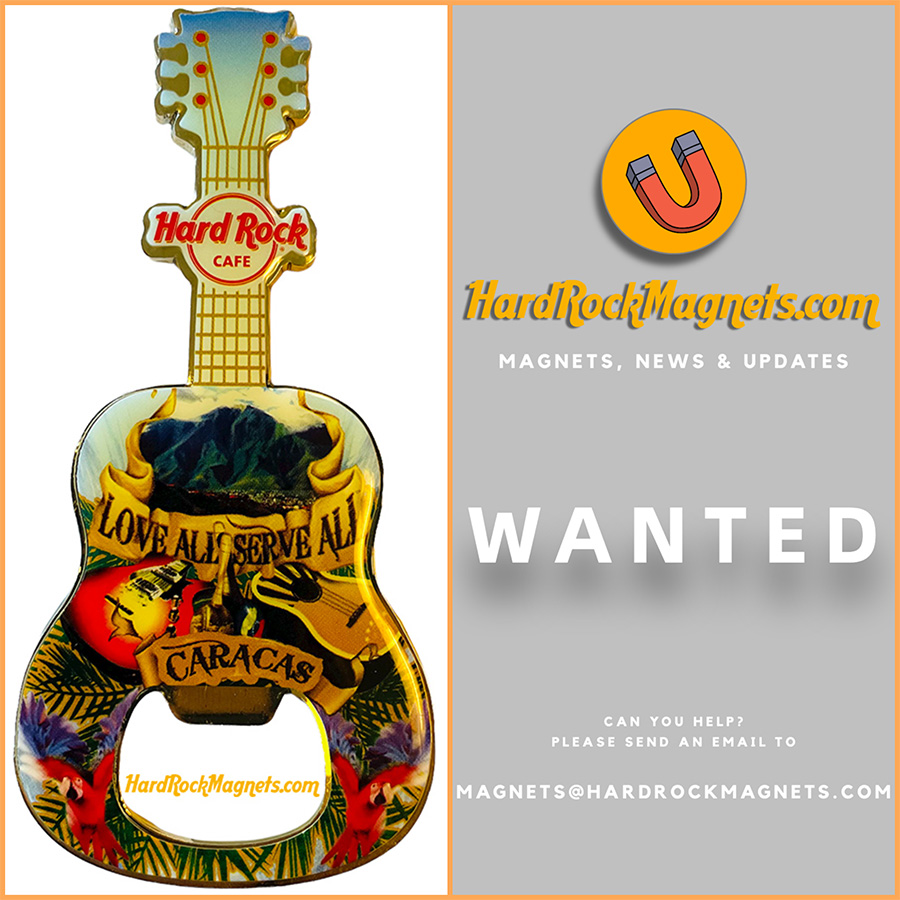 From the moment I first laid eyes on a Hard Rock Cafe magnet, I was captivated by their unique charm. The magnetic mementos, adorned with the iconic logos and vibrant designs, serve as reminders of my travels and the memories associated with each location. As an ardent collector, I have managed to acquire magnets from numerous Hard Rock Cafes around the world. However, the absence of the Caracas magnet leaves a noticeable gap in my cherished assortment.
I embarked on my search for the Hard Rock Cafe Caracas magnet with great enthusiasm. I scoured various online platforms, reaching out to fellow collectors, browsing auction websites, and even joining specialized forums dedicated to Hard Rock Cafe memorabilia. My efforts have yielded some positive results, enabling me to connect with passionate collectors and enthusiasts who share my quest. The knowledge and support within this community have been invaluable, but alas, the elusive Caracas magnet remains a mystery.
We are looking for Hard Rock Cafe Caracas Magnet No. 1. This one is still missing in our collection. Do you have this missing one for SALE? If yes, please send us a whatsApp message to the following number: jp@thisIsHardRock.com
Important links