First of all before reading the whole story on Hard Rock Cafe Taichung, please be informed that we're deeply looking for a "real" HRC Taichung picture. In case you have been there, know anyone who used to work or go there please ask around if anyone took a picture from outside the Cafe back in the 90s. This is the only missing picture of all ever existed Hard Rock Cafe locations in the world!
Hard Rock Cafe Taichung address
Address: B/1 No. 345 – Sec. 1, Taichung Kang Road (See pictures below)
Linding Gaofeng building (The Shanghai Commercial & Savings Bank, Ltd.)
Basement Level to be accessed through stairs next to the main entrance (The picture below next to the business card)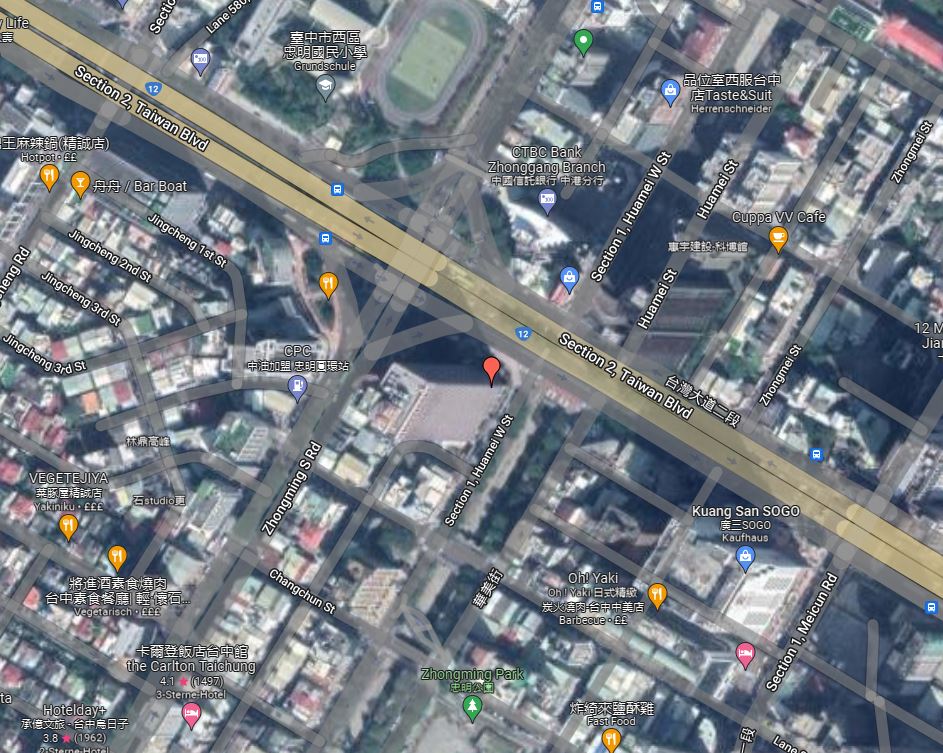 Some background story on HRC Taichung
Back in December 22nd 1993 Hard Rock Cafe opened its first Taiwanese location in the capital of Taipei. 2 years later in 1995 a second Hard Rock opened its doors in the Western Taiwanese City of Taichung. The exact opening date is unknown, but an invitation letter back from 1995 gives proof that there was a Cocktail Reception on November 7th 1995, it's unclear if this is the Opening Date as well or if the Opening itself was a few days/weeks later.
According to the invitation the President and Managing Director was Mr. David Sun of Sun and Moon, Inc.
During the last years we had been in contact with several people, who had been involved with HRC Taichung, but a picture of the Cafe remains missing. Can you maybe help us?
2 staff from the Hard Rock Corporate Headquarters in the USA installing the Cafe
Singapore based Franchisee Hotel Properties Limited (HPL)
Singapore based Electronics & Engineering PTE LTD (enepl) who installed the sound systems into several Asian Hard Rock Cafes
Mr. Gene Yoon who was in charge for both Taiwanese Hard Rock Cafes in Taipei and Taichung
"Kevin", who used to be a Manager and part of the Taichung Opening Team
Sophie from appledaily.tw who did a lot of research within Taiwan, she even met the General Manager of the building where the Cafe used to be. Click here to read her Chinese blog entry.
a few locals from Taichung we found through Facebook who visited the Cafe
global collector Ron from Switzerland who visited the Cafe in March 1996
global collector Rick from the US who visited the Cafe in July 1996
global collector Marie who visited the Cafe some time between 1995 & 1996
Facts about HRC Taichung
The complete story of this 400 square feet Cafe is a bit unclear. Fact is this Cafe was supposed to be a "real" one. In the official "Hard Rock Cafe Treasures" book, there's a listing of the first 65 Cafes that opened worldwide and Taichung is listed as #56. However something might have happened just before the Opening as according to our information HRC Taichung never made it pass the franchisor approval, so we have to assume the Cafe opened without being an official Cafe.
One reason could be that the location was in the basement of a business building and since the Cafe included a Restaurant and Club it was very difficult or almost impossible to get the final license in the end so this could be the reason why it never got the official approval and license.
Therefore the Cafe stayed open for a few months. There is no official closing date, it must have been sometime between July & December 1996, so it did last 6-12 months only, but given the fact it was not an official Cafe. It was operating under a pseudo name. The Taichung Cafe was called 硬石, which means "Hard Rock" only but not Hard Rock Cafe. The Cafe looked exactly like a real deal, they even had that huge iconic guitar in front of the Cafe, which was confirmed by several people. We also have this drawing of the Cafe that shows how it probably looked like.
As it was supposed to be an official Hard Rock Cafe they used to have Original merchandise like Pins, a few shirts, 2 glasses and a Cap. That's all we know and can proof with pictures as you can see further below (picture of the collage).
Pictures
Hard Rock Cafe Taichung location as of now
Just click on one of the desired images to see them in full size.

Hard Rock Cafe Taichung Merchandise
Here is a collage of official HRC Taichung Merchandise. Do you have merchandise from this former Taiwanese location?
Business Card & Entry to Basement Level
Furthermore here are some pictures of a Taichung and Taipei business card and a picture of the stairs leading to the basement where the entrance to the HRC used to be. Those stairs were/are located just next to the main entrance of the office building.
Contact
Can you help us with a picture of former HRC Taichung? If yes, please send me an email to:
jp@thisIsHardRock.com