Hello Hard Rockers, friends and collectors, I need your help. This Hard Rock Cafe Buenos Aires Magnet is still missing in my collection. It is the first released magnet from HRC Buenos Aires in Argentina, which is closed at the moment.
Hard Rock Cafe Buenos Aires Magnet – Can buy or trade
As a passionate collector of magnets, each one holds a special place in my heart. They are not mere pieces of metal; they are gateways to memories, souvenirs of places I've visited, and tangible reminders of my adventures. However, there is one particular magnet missing from my collection that I yearn to possess – the first Hard Rock Cafe Buenos Aires magnet.
The Hard Rock Cafe is renowned worldwide for its electrifying atmosphere, legendary music, and mouthwatering cuisine. It is not just a restaurant but a cultural icon that celebrates the spirit of rock and roll. The Hard Rock Cafe Buenos Aires is no exception, encapsulating the vibrant energy of the Argentine capital and paying homage to the city's rich musical heritage. Owning the first magnet from this iconic establishment would not only enhance my collection but also symbolize my connection to Buenos Aires' rock and roll history.
The Hard Rock Cafe Buenos Aires magnet represents more than just a missing piece in my collection; it signifies the memories and experiences that I have yet to acquire.
Do you maybe have this magnet for SALE or TRADE or do you know anybody, who is willing to sell it? Please send us an email to jp@thisIsHardRock.com or send us a whatApp message to: +49 152 28173975.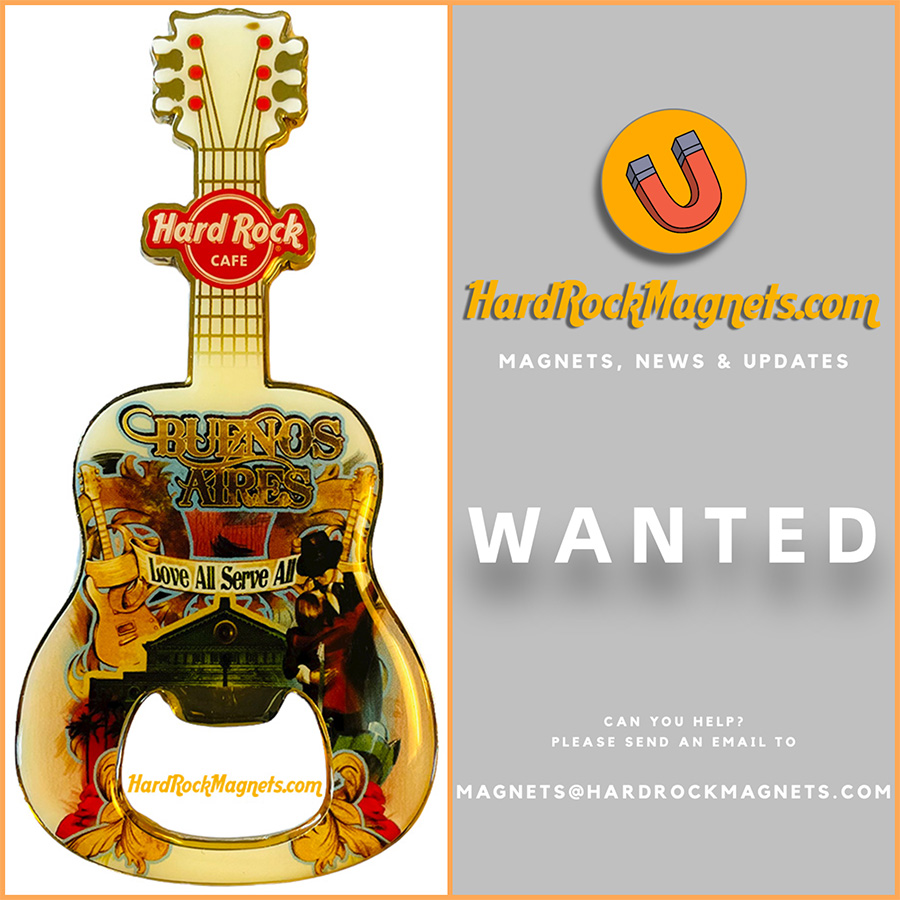 There are some more missing magnets. We have a list on a separate page with pictures of all missing magnets. Click here to find the whole list with our missing ones. We really appreciate your help and your support to fulfill our collection.
We are looking for these magnets:
HRC Buenos Aires Bottle Opener Magnet No. 1
HRC Cartagena ERROR Bottle Opener Magnet No. 1
HRC Nassau Bottle Opener Magnet No. 1
Too see our whole collection, please visit www.HardRockMagnets.com.
If you maybe want to sell your whole collection of V+ Bottle Opener Magnets, please send me an email or whatsApp message as well. We have a lot of friends, who are looking for magnets from all Hard Rock locations around the world.
HardRockMagnets on Facebook & Instagram
Do you like or website? In order not to miss any news and to stay up to date, we recommend you to visit our Facebook page: HardRockMagnets on facebook. Furthermore here is the link to our Instagram profile.