Hard Rock Hotel Brussels in Belgium
First of all there is NO Hard Rock Hotel in Brussels at the moment. And there a no plans in the nearly future that Brussels will get a hotel property by HRI. So did you find this page here?
There is a Hard Rock Hotel Brussels ERROR Bottle Opener Magnet. This magnet shows "Hotel" instead of "Cafe" in the guitar neck of those guitar magnets. So this one is a rare ERROR Magnet. Below you'll find a blog post with all Hard Rock ERROR Magnets. The one from Brussles is the newest one and a great addition to my collection of these special magnets.
At the moment there are just a few error magnets:
Hard Rock Cafe

BOGOTA

Bottle Opener Magnet
Hard Rock Hotel

BRUSSELS

Bottle Opener Magnet
Hard Rock Cafe

CARTAGENA

Bottle Opener Magnet
Hard Rock Cafe

MONTEGA BAY

Bottle Opener Magnet No. 1
Hard Rock Cafe

MONTEGA BAY

Bottle Opener Magnet No. 2
Hard Rock Hotel

SAIPAN

Bottle Opener Magnet No. 1
Pictures you'll find below in the blog post at the bottom of this subpage.
Error Magnets – The Treasure Of Every Collection
Collectors and enthusiasts of Hard Rock memorabilia often search for the most unique and rare items to add to their precious collections. Among the treasures that capture the essence of the rock 'n' roll lifestyle are the elusive and coveted "error magnets" from Hard Rock Cafes and Hard Rock Hotels.
These error magnets are a special breed of collectibles, cherished for their limited availability and the intriguing stories behind them. What makes them so captivating is the fact that they were not intentionally produced as part of the standard merchandise lineup. Instead, they emerged due to manufacturing glitches, design discrepancies, or other unforeseen circumstances.
Error magnets are like hidden gems, waiting to be discovered by those who have a keen eye for detail and a passion for the world of Hard Rock. They tell a story of the brand's history, showcasing the dedication of the company to providing unique and authentic experiences, even when the manufacturing process takes an unexpected turn.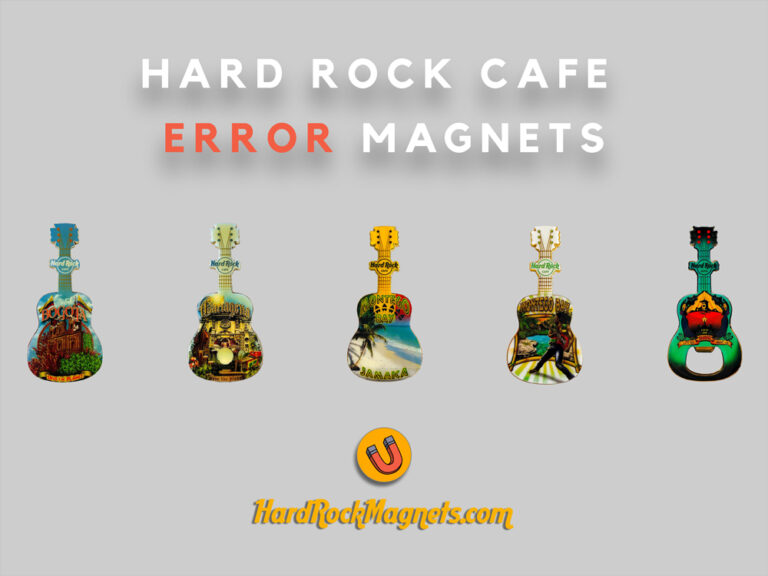 Post published:

12. April 2021