At the beginning of March my next Hard Rock tour was on schedule. This time I went via Vilnius to Yerevan, the capital of Armenia. Armenia is a new country point for me and therefore an adventure I was looking forward to. Since 2022 there is a Hard Rock Cafe in Yerevan, which officially opened on 29th July 2022.
I flew to Armenia with my buddy John from my hometown Ennepetal. John is also a passionate Hard Rock Cafe collector and could celebrate his 122nd visit in Yerevan.
We landed in Yerevan in the evening ahead of shedule at 7:30 pm. After the quick immigration and a bus ride of about 25 minutes we reached our hotel in the city center at about 9 pm. We stayed at the Ibis center, which is about a 3 minute walk from the cafe.
By the way the bus stop for transfer to the city is right in front of the terminal. One ride costs 300 AMD. Until 10 pm the bus departs every half hour, after that it departs only every hour until 7 am.
Our Hard Rock Visit 231 & 122
Around 9:30 pm we were finally at the HRC Yerevan and had a table with a perfect view of the stage where a live band was playing rock classics. After the long tour we were very hungry, but we got our burgers fast. By chance we met another collector who spent a few days in Armenia with his wife. Didier Caudron traveled from Belgium and celebrated his 155th visit on site. After taking a photo together we said goodbye to each other. Didier and his wife flew back to Belgium the next day via Vienna.
Sightseeing in Armenia
The next morning we strengthened ourselves at breakfast for a long Sightseeing tour. A little unprepared, we thought over breakfast how we would best get to the sights, which are located somewhat outside. There are many tour providers, even spontaneously you can book tours. It is worthwhile in any case also to act, because the prices vary greatly. Many private providers can be found at the Republic Square about 5 minutes from the cafe. However, we decided to book a rental car to be more independent. In retrospect, this was a good decision, because we could return it at the airport and thus no longer had to organize the transfer from the center to the airport.
After we got our brand new Nissan Qashqai, we decided to head for the most distant destination first. So we went first to the Monastery Chor Virap not far from the Iranian and directly on the Turkish border. This monastery was visited in 2016 by Pope Francis during his Armenia trip. Unfortunately, we were a little unlucky and so we could not see the mountain behind it because of fog. When visibility is good, you are rewarded with a picturesque view of the monastery and the mountain Ararat.
Opposite the monastery there is a small hill with a statue of George C? From here you also have a great view of the ancient Armenian monastery. Travel time from Yerevan to the monastery was just under 40 minutes (33 km).
We continued to the next monastery northeast of Yerevan in Geghard. This monastery has been included in the UNESCO World Heritage Site in 2000. The special thing about this monastery is that many rooms were cut into the rocks behind it. Also one made use of the many caves and built many small memorials. Since we had a few more meters of altitude on the clock this time, there was still here and there. Some snow and it was much colder than in Yerevan, which is only 20 km away.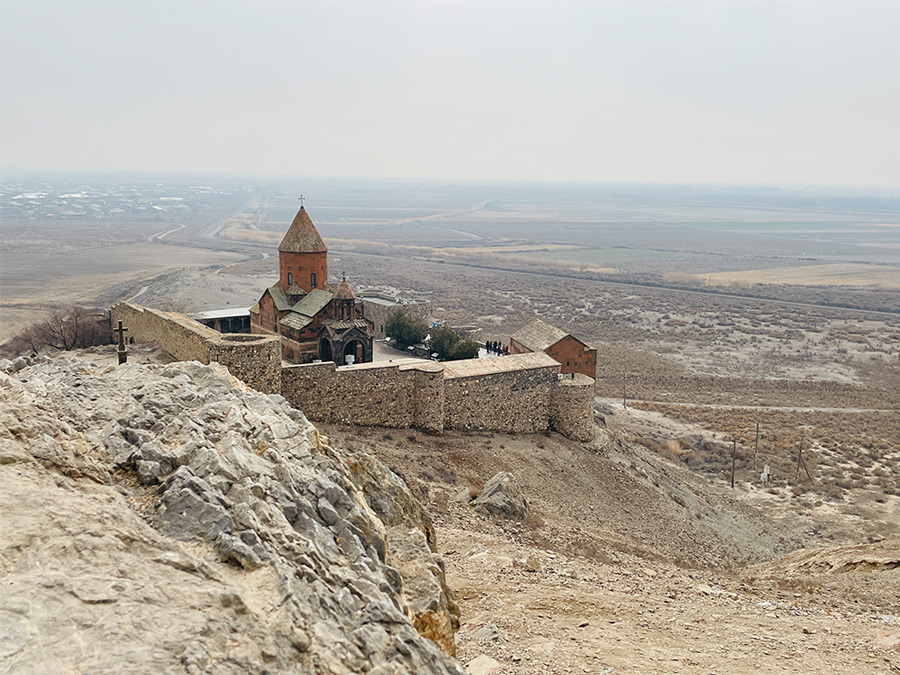 Monastery Chor Virap